I
FINISHED
my
Bikini Body Program with DAMY Health
. I can't believe it! The 12 weeks flew by! I'm also LOVING the new me! I wanted to share with you all my final stats and before and after pictures!
This was me 12 weeks ago. This is me now.
An improvement? I'd say so!
Just to stick with the idea of the program - it is called Bikini Body Program after all. Here you all have it!
Me in my new bikini!
Full body! Bikini from Victoria's Secret.
Wow! I wouldn't have been caught dead in one of these before! Much less on the internet!
I didn't start the
DAMY Health
program to be skinny, wear a size 6 pant or anything of that nature. I had set a goal a while back to firstly, lose the 15 lbs that I put on doing the job that I really disliked. I also wanted to make more muscle and lower my body fat percent. For a long time, I've wanted to be able to get my body fat percent in the "Fitness Zone". I did much more than that! I want to share with you all my TOTAL body transformation
This girl here weighed 159 lbs. She was a size 10 and had 26.5% body fat. She was athletic and loved biking, running, strength training and all activities that involved a physical challenge. She just didn't feel that her BODY represented what it could actually do! She had no problem getting out to exercise, she loved it! Her diet however, consisted of too much sugar and TOO much processed foods. She needed a change!
Bust: 36"
Hips: 42.5"
Waist: 29"
Weight: 159 lbs
Body fat percent: 26.5%
Pant size: 10
THIS girl weighs 139 lbs. She wears a size 6 and has 19.7% body fat. She is the same as the girl above. She has the same interests, does the same activities, and still loves challenging herself. This girl, however, feels like her outer self really represents her inner self. She is content with who she is and confident about her abilities. She feels HEALTHY, she is proud and happy of what she puts into her body and the way her body rewards her for treating it well. Some more about this girl:
Bust: 33 3/4"
Hips: 37:
Waist: 26.5"
Weight: 139 lbs
Body fat percent: 19.7%
Pant size: 6
5 1/2" in my hips
2 1/2" in my waist
2 1/4" in my bust
20 lbs
6.8% body fat
4 pant sizes
Total: 10 1/4"
I'm a new girl. I'm a happy woman who feels like her outer self now represents the inner confident self that I've always been! This has been a complete change in my life that makes me so proud. Not only has the
DAMY Health
program changed MY appearance, it's changed my abilities. Physically, I am so much more capable of things I never thought I COULD do. I think back to my first
DAMY Health
workouts and how I struggled through many of them...but I did them! Now, I feel like I could hammer those workouts out with no problem! I've seen changes not only in my appearance but my abilities as an athlete. I can bike harder, run faster, endure more! Also, my body fat percent? That 19.7% beats the Fitness category. I'm into the
ATHLETE
category!
I've been asking myself a lot lately...now what?! Clearly, this isn't just a 12 week program for me. This is a lifestyle change. I was talking to some friends about my clothing and how none of it fits anymore.
My skinny jeans: NOW on top, BEFORE on the bottom. Size 10 to a size 6.
Some of the people I spoke with suggested hanging onto my old clothes, "just in case I gained weight again." However, I THINK, why set yourself up for failure? Why GIVE YOURSELF the option to go back to before? I don't want to go back, I want to go forward. I want to improve more. Yesterday, I went out and bought a new wardrobe at an Old Navy sale. I bought size 6 pants, size SMALL skirts, size SMALL and EXTRA SMALL sweaters. Why would I want to go back? It felt SO good to say, "Do you have this in a size 6?" Amazing! Something I didn't think I would EVER be saying. Thoughts and words are powerful. Why CHOOSE to think that I MAY grow into my old pants Why give myself the option? I choose my health. I have CHOSEN what I want. As I said, this is a new lifestyle. It wasn't a temporary experiment. I CHOOSE to not give myself the option to fail! My old clothes? They are being sold on Ebay and in thrift stores. My new clothes? Here to stay!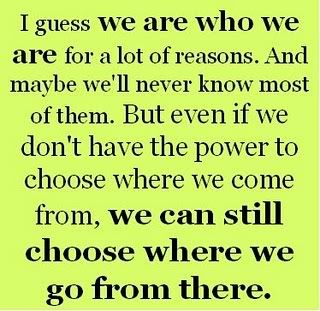 In continuing with my LIFESTYLE change, I've made a decision for today. I'm putting ME first. I'm putting my health and wellbeing first. Today, I will be purchasing a year membership to the
DAMY Lifestyle program
. I will continue workouts and continue clean eating. I will continue forward! I feel some six pack abs are just a short bit away! :)
What about you? What will YOU choose today? Will you choose to go forward? Will you choose the you that YOU want to be? If the person you want to be involves a healthier you, than I recommend DAMY Health. As you can see, I've experienced firsthand the way that the DAMY Health program and all of their support changes lives! Don't wait! Choose you TODAY!